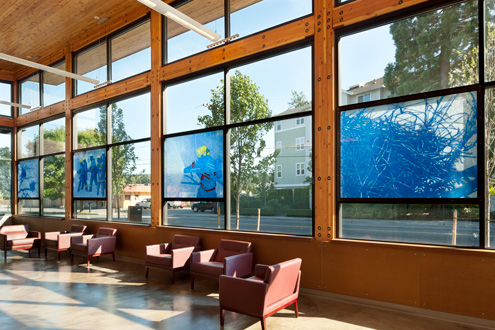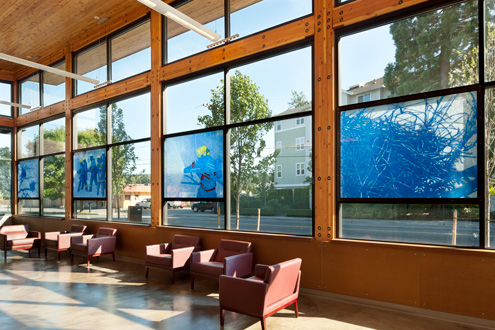 Under the Heron's Wing
2011
Northshore Fire Department, Kenmore, WA
The beauty of light passes through painted glass, transforming the lobby into a light box. Archival images of firefighters at work are juxtaposed with herons living in the surrounding environs. Just as the firefighters look after the safety of their community, herons also fiercely protect their young in a rookery nearby. The light box design at the reception desk was inspired by the city map used daily by firefighters. Hand blown glass bugles displayed on a stainless steel shelf remind us of changing technologies.
Four glass window panels: hand painted, etched, silkscreened: 4' H x 6' W
Glass light box, hand painted, etched, silkscreened: 28" H x 60" W
Five hand blown glass bugles: 20" H x 8" W
Stainless steel shelf: 62" W x 12" D
Commissioned by Northshore Fire Department, Kenmore, WA
Photo credits: Lara Swimmer
Fabrication credits: Fabrication Specialities
Copyright © 2017 Gloria Bornstein